Headlight
SON headlights are supplied with a heavy-duty coax lead. Plugs are either fitted at the factory or supplied loose for custom lenghts.The assembled 50cm leads are suitable for lights fitted to the forkcrown of a 28" wheeled bike. SON20's are usually supplied with a 1.0m DIY lead.

Start fitting the headlight in the position required. Do not fit the light upside down, as this will give very uneven illumination and cause the ingress of water in many lights.
Fit the plugs as follows: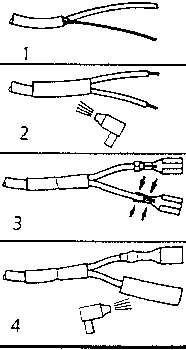 remove about 4cms of outer insulation and twist the underlying wires together
slide a thin piece of heatshrink over the wire and heat with a heatgun (or a lighter) Repeat with a fatter piece to cover the junction .
Bare the isolation over the last 5mm of both wires.Crimp the 4.8mm plugs with a suitable tool or pliers. (add a dab of solder if needed)
cover the plugs with the remaining heatshrink.
Connect the plugs (in no particular order) to the dynamo, and fasten the cable to the fork etc with zip-ties. Leave enough slack to facilitate disconnection. The light is switched on and off with the switch fitted to (usually) the back of the headlight.

Rear light
Rear lights are connected to the headlight. With Lumotec lights you can use a 2.8mm plug connected to the terminal with the lightning symbol. Lights are earthed through the mounting bolt, but a earthing wire can be fitted with either a 2.8mm plug or to the mounting bolt with a crimp eyelet. The dynamo has no earthing of its own. If you use the dynamo without a rear light, replace the bulb in the headlight with one marked 3W. Otherwise bulblife will be short due to overvoltage

Maintenance
The hub is fully enclosed, en -apart from the bearings- contains no moving parts The bearings can not be adjusted or even relubricated without special tools, some slight play is normal for this design. The seals cannot cope with a high pressure hose or submersion, so care should be exercized when cleaning the bike.

Check the wiring occasonally for frays, as the open voltage can be unpleasant.

The hub cannot be serviced without special tools, contact us if you have problems. Read the FAQ first.

Caution
The open voltage and the power surge during switching can reach high values and give a nasty sting. For this reason you should always use quality wiring and insulation.