M-gineering touring bikes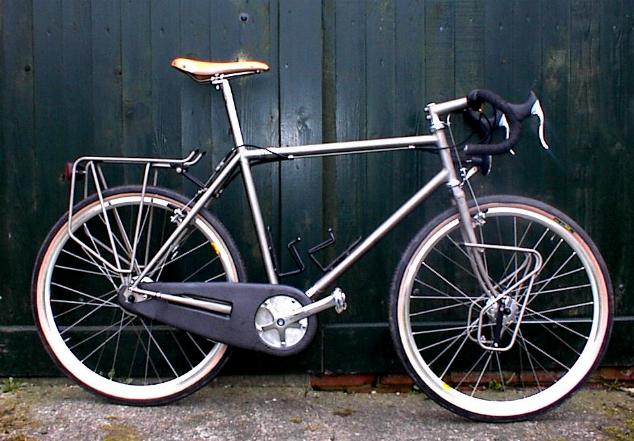 SRS
SRS is short for Son, Rohloff and S&S. The Son dynamo hub provides light without fuss, The Rohloff gearhub has 14 speeds, and the S&S btc's allow the bike to split and pack in a large suitcase. The Carbon chaincase is custom made for the bike, as the Rohloff oem dropouts don't line up with the chainstays and to allow for removal of the rearwheel. The handlebar splits for easy packing, and a modified.Rohloff twistgrip is incorporated in the dropped bar. Leather 'upholstery' by Lepper.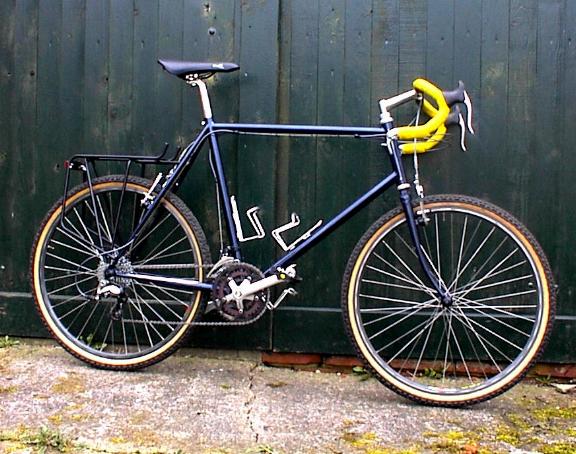 Touring bike
with 26" wheels, Front and rear carriers, dropped handlebars with 9-speed bar-cons, and V-brakes with Travel-agents. Frameset consist of lugless brazed Columbus Niva OR (no longer available) frame tubes and Dedacciai forkblades in a hollow Long Shen forkcrown.
More recent frames use Reynolds tubing for the main triangle, as Columbus keeps reducing the wall-thickness of their frametubing, making them rather dent prone in a touring bike.